Organic Aloe Barbadensis Leaf Juice
Ingredients
Organic Aloe Barbadensis Leaf Juice, Organic Butyrospermum Parkii (Shea) Butter, Organic Ethanol, Organic Helianthus Annuus (Sunflower) Seed Oil, Organic Theobroma Cacao (Cocoa) Seed Butter, Organic Nano-Emulsified Cannabidiol (CBD), Organic Glycerin, USP Micronized Bioidentical Progesterone, Organic Copernicia Cerifera (Carnauba) Wax, Xanthan Gum, Organic Sunflower Lecithin, Sodium Citrate, Citric Acid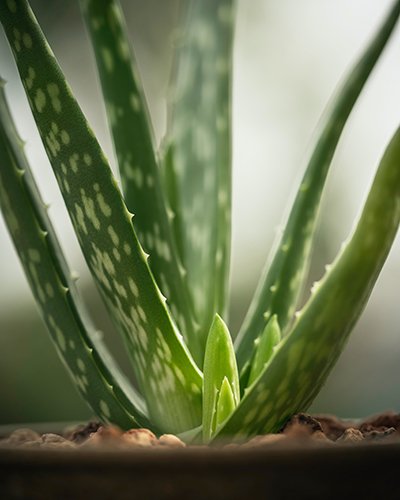 Organic Aloe Barbadensis Leaf Juice
Organic Aloe Barbadensis Leaf Juice – Often extolled for its soothing qualities, aloe is usually identified as a topical ointment for burns, sun damage, and skin abrasions, and this healing plant moisturizes and has anti-aging effects.
Aloe includes several necessary vitamins: A, C, E, B1, B2, B3, B6, and B12.
Vitamins A, C, and E are antioxidants and help fend off free radicals which can contribute to cancer, heart disease, and other illnesses.
Aloe contains 12 organic compounds called anthraquinones. Aloin, which causes a laxative effect, and emodin help with pain relief and work as antibacterial and antiviral agents. Anthraquinones are often removed from commercial aloe products.
Our aloe contains a unique type of sugar called Acemannan. The polysaccharide is believed to have antiviral properties, eases gastrointestinal problems, and stimulates the immune system.
Aloe consists of four plant-based fatty acids which are shown to have anti-inflammatory and antiseptic qualities. The acids also contain pain-relieving components. According to the National Institutes of Health (NIH), aloe vera contains 20 amino acids, seven of which are essential.
The plant also has hormones that aid in wound healing and eight enzymes.
Lastly, Aloe's anti-inflammatory and analgesic characteristics may be helpful in relieving muscle and tendon pain. The gel is sometimes used topically in sports medicine to soothe achy muscles, but taken orally, the anti-inflammatory ingredients may also help with the pain.
The plant also has hormones that aid in wound healing and eight enzymes.
Create a life in balance
Take your health and wellnesss to the next level and get your FEMININE BALANCING CREAM today!